6

min read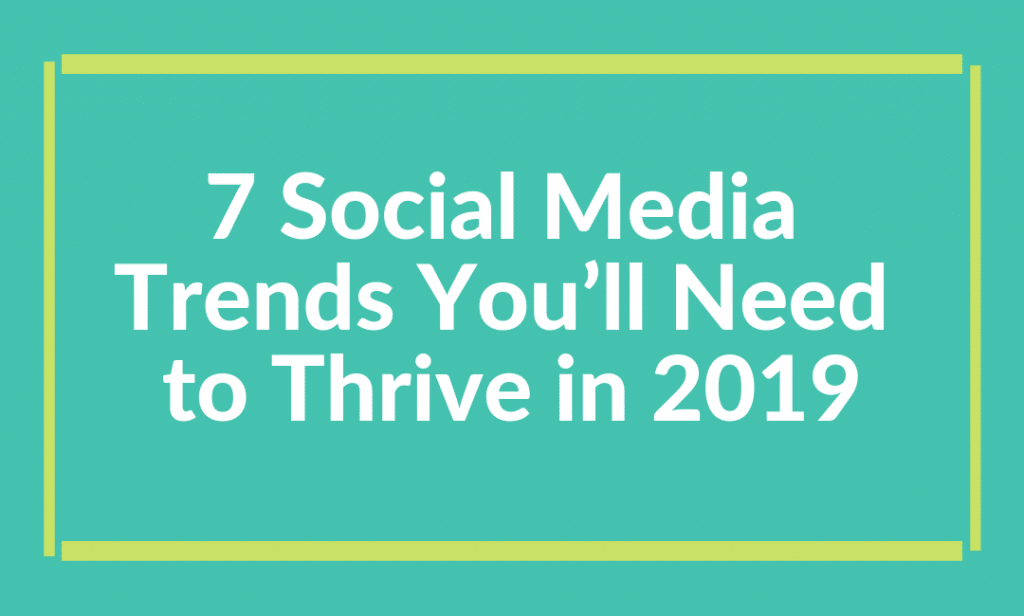 As we approach the New Year, the time to start planning your 2019 social media strategy is yesterday, aka right now. This is the time to be analyzing the data from the social platforms you're using, as well as any third-party tools to tell you about your website metrics such as Google Analytics. It's also time to consider what you want to gain from social media next year, how to set strategic goals and the specific types of content you'll share to turn your social media followers into buyers. It's time to start deciding how you'll include these 2019 social media trends in your digital strategy.
Below are seven 2019 social media trends you will absolutely have to include in your social media strategy next year if you want to stay ahead of your competitors, stand out to your ideal target audience and increase leads and sales from your online audience.
1.    Use video
I'm assuming you're not surprised. Video has been hot for several years now and the industry is steadily growing. In fact, marketers who use video grow revenue 49% faster than non-video users. I hope I have your attention now. (By the way, marketer = anyone in business). Today, there are so many ways to take advantage of video marketing across several of the social platforms. And while I'm a big fan of doing live videos, leveraging on-demand videos and stories are also great opportunities to connect with your audience.Video marketing is such a powerful tool. Outside of a face-to-face interaction, it's the fastest way to build the know, like and trust it takes to turn your followers into buyers. The quicker you connect with your audience,the faster they will move down the sales funnel and convert to a lead.
Here is a video I did on video marketing and how you can start incorporating it into your social media strategy today.
2.    Choose quality over quantity
To be fair, this was also true for 2018 but several of us are still missing the point. I often see businesses blasting their audiences with content that is either random or heavy on the push marketing approach. This is the tired, played out approach to digital marketing and will only push your audience into the arms of your competitors. While it is true that you must be consistent when posting to your social media channels, it's even more important to post your top-quality content. This content will not only capture you audience's attention, but also leave them wanting more or making them want to do business with you. If you're stuck on ways to do this, be sure to grab my free 30-day content calendar  to spark some inspiration.

3.    Make relationship marketing a priority
Consumers are so sick of being "sold" online. Between the ads we see on almost every web page, the ones interrupting our music and videos and the "organic" posts in our feeds where businesses are all but screaming at us to buy their products or services, the digital space has become more overcrowded with noise than ever before. This is why it's more critical than ever to make each person in your audience feel like your priority is providing them value, not making a sale. This 2019 social media trend could be the one thing that instantly turns your social media results around. Your content should nurture a relationship over time based on that value and the person or people behind the brand. Here is a video I shared a while back that explains this in a bit more detail.
4.    Attach a face to your brand
I've said this more than once and I'll say it again. People want to work with people, not brands. Yes, B2Bs, I'm talking to you as well. Falling in line with the tactic above, attaching a face to your brand is a great way to build a relationship with your online audience. In the case of a B2B company, it will likely be more than one face, which is also acceptable. Highlight your employees from time to time or choose someone to be the evangelist for your brand so people can get to know them. In my several years of working with Fortune 500 and 100 companies, the social content that always performs the best includes real images of real people. Cisco and Empify do a great job at this.
5.    Be clear on your values
I don't know about you, but I'm so honored to believing in a time where businesses are publicly showing their support for civil issues such as diversity, inclusion and equal rights for all. Gone are the days where businesses are playing Switzerland when it comes to their values. Now, am I saying you need to be filling your feeds with a ton of controversial posts intended to spark online debates? Of course not. I'm saying that people are becoming more sophisticated with their buying decisions and are much more likely to buy from a business that shares their mission, values and morals. In other words, talk about what you believe in. This is the 2019 social media trend  that will create raving fans for your business instead of just one-time customers. 
6.    Ask for feedback
This trend transformed my business this year. Sometimes, especially as business owners, we have a tendency to overthink what it is our audience wants when we can simply ask them. In my opinion, this is the absolute easiest way to find out exactly what problems your audience is having and the content that would be most beneficial for them. If you're someone with a small or non-existent audience, you may still need to rely heavily on market research and trends. But, if you currently have a decent number of email subscribers or a good sized social media audience, why not just ask them yourself? Occasionally, I will do polls on my social channels to learn more about my audience, personally and professionally. Asking your audience directly or sending out a survey or are also great options.
7.    Get your employees on board
This last 2019 social media trend is one of most important, yet most underused. You need more people talking about your brand and your employees are your biggest asset. Utilizing employee advocacy to turn your employees into brands ambassadors is one of the fastest ways to dramatically increase your brand awareness, reach and impressions. Remember what I said earlier about people wanting to work with people and not brands? Your employees are a great way to start getting your offerings in front of more people without looking too pushy online. Now of course you'll need a strategy for this to make sure your company's social media policy is followed and to assure your employees are sharing a consistent message that represents your brand. I recommend getting a trainer to come in – see my services page for how I can help.
What comes after the social media trends?
All of these 2019 social media trends have the power to increase your leads and sales, especially when applied all together and consistently. If you're serious about growing your business in 2019, book your 30-minute discovery call with me to get a customized plan that will help you be seen, heard and profitable on social media in the new year.
 Which of these 2019 social media trends do you want to focus on most for your 2019 social media strategy? Leave a comment below or tweet me @BiancaLynch.
Sources: https://www.wordstream.com/blog/ws/2017/03/08/video-marketing-statistics