6

min read
One of the best things about being a business owner is the freedom to run your business when, where and how you want. This is a huge deal when it comes to social media. As someone who has worked with several fortune 500 and 100 companies, I've seen what limitations a strict social media policy can put on one's voice and creativity. That being said, there should still always be some sort of strategy when it comes to social media for small business. But there should also always be flexibility and room to be yourself. I've written several blog posts for business owners, corporations and agencies but this post is for the solopreneurs out there. This is for the business owners who want to be seen, heard and profitable on social media because they know they have a story to share that can impact millions of people.
Social media for small business marketing
The problem I often come across when it comes to social media for small business marketing is clarity. Although each strategy is customized for the business, all my one-on-one consulting clients go through the same process. The first step in that process is making sure they have clarity when it comes to their social media goals, their message and their ideal target audience. Why is this always the first step? Because confusion does not convert and without clarity, you as a business owner are leaving money on the table.
This post is going to share the three essentials when it comes to social media for small business marketing – the secret to having clarity and confidence in your brand.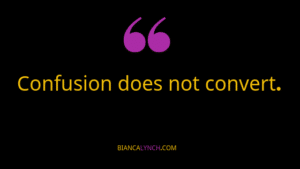 1. Clarity in your social media goals
Knowing what you want your outcome to be should be the first step to any venture. Think about it. Would it make sense for a personal trainer to just start yelling "Drop down and give me 20!" without first assessing their client's specific wants, needs and barriers? Absolutely not and those same rules apply to social media. But to be fair, this can be an intimidating task – especially if you are a social media newbie.
The problem is, if you do not set your objectives from the start, you have no idea how to measure what social media success looks like to you. Also, it is impossible to create an effective content strategy and to know what to post if you are unsure of what you are trying to accomplish. Let that simmer for a second. If I decide I want to start posting on social media but I'm not sure why I will likely just sporadically share whatever comes to mind. I see this all the time and it pains me because as a business owner, you constantly have a gazillion things on your to-do list. Social media doesn't need to be another time suck and it doesn't have to be if you have clarity and a strategy. Once you have clearly defined social media goals, you can plan your content accordingly and consistently measure your results to determine what's working and what needs to be optimized.
2. Clarity in your brand message and voice
You know how you meet someone in person then you find them on social media and you feel like they are two completely different people? That's what you don't want to happen when it comes to your brand. This is especially the case for social media for small businesses because these business/client relationships are often more personal. Your brand message should be recognizable online and offline line, including social media. Having clarity in your brand message means you are crystal clear on your value, mission and purpose. If you're doing this the right way, these themes are consistently weaved into your content. I talked about this same concept in my recent post, Relationship Marketing 101: Why You Are your Competitive Advantage. Unfortunately, so many entrepreneurs are not clear on their voice and message which leads to more confusion. I recommend asking someone who is not in your industry if they can look at your content and easily identify your message. If not, it's likely time take it back to the fundamentals.

3.    Clarity in your target audience
There's a reason that after all these years even the biggest names in the industry still talk about the importance of knowing your target audience. It's because it is the single most important thing to know when it comes to social media for small business marketing – and all marketing in fact. You can have all the clarity in the world when it comes to your goals and message but if those don't align with what your audience wants, you can hang up the thought of social media success. I even like to take it a step further and encourage my clients to identify their ideal target audience. Another great perk to owning your own business is choosing who you want to work with. Clearly identifying the types of clients and customers who can get the most from your offerings and those who are most enjoyable to work with is a privilege. Although often overlooked, building buyer personas should be in the early stages of any and every business.
So how do you get clarity?
To sum it all up, without clarity in your goals, your message and your audience, you are setting yourself up for disappointment. I know this because when I first started using social media for business, I made this exact mistake. I also know this from working with dozens of amazing, passionate entrepreneurs who could not figure out why they weren't getting the results they wanted from social media. This is why I created Define and Conquer, a mini-course specifically for entrepreneurs who need more clarity in their goals, their message and their target audience. Define and Conquer is a guide that comes with a series of short videos that walk you through exactly how to clearly define all three of these essentials.
I invite you to comment below and tell me which of these areas you'd like more clarity in. If you're ready to start growing your influence, impact and income with social media, you can book your 30-minute discovery call with me.